Black Capped Chickadee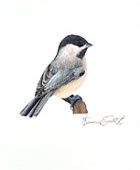 Black Capped Chickadee Tote Bags
The official bird of New Brunswick is a loyal year round resident of Crocker Hill. We never tire of its "chick a dee-dee-dee" song 365 days a year. When we hear the male ís "fee-bee" we know spring is not far away. Our faithful friends never refuse Gail's tasty offering of raw peanuts as they feed from her outstretched hand.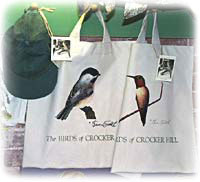 Tote bags are made of unbleached, heavy canvas crafted in Nova Scotia, Canada. These roomy, durable items are available as either short handled bags or with convenient shoulder straps.

Price: $19.95 CDN




The Crocker Hill Store, Steven Smith Designs, 45 King St. St. Andrews N.B Canada E5B 1X6
Tel: (506) 529-4303 | Toll Free: 1-888-255-4251| Email: crohill@nbnet.nb.ca

Shop Online
Bird Prints
Tote Bags
T-Shirts
Note Cards
Gift Certificates
Ordering Info
About Us
Your Hosts
Our Location
What's New
Our Garden
Media Attention
Contact Us