American Robin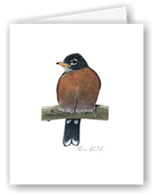 American Robin Turdus migratorius
Gail makes sure she has blueberries in the freezer especially in late winter/early spring to feed the robins. Every year after the robins return, we can always count on at least one snowstorm. The trees and snow covered lawn are dotted with robins n search of food.

This Robin, feathers fluffed, is perched on a lilac branch waiting for his blueberry meal.

Our cards are printed on 100% recycled paper.

Size: 6 3/8"x 4 1/4"
Price: $15.00 CDN for a set of eight cards with envelopes
or $2.00 CDN individually.




The Crocker Hill Store, Steven Smith Designs, 45 King St. St. Andrews N.B Canada E5B 1X6
Tel: (506) 529-4303 | Toll Free: 1-888-255-4251| Email: crohill@nbnet.nb.ca

Shop Online
Bird Prints
Tote Bags
T-Shirts
Note Cards
Gift Certificates
Ordering Info
About Us
Your Hosts
Our Location
What's New
Our Garden
Media Attention
Contact Us