Ruby-throated Hummingbird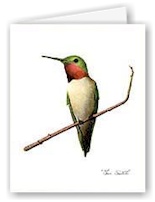 Ruby Throated Hummingbird Note Cards
The Hummingbird, the symbol of Crocker Hill Studios returns to our garden by mid-May each year. We enjoy its antics until the first week of September when it heads south. Our garden, awash with bright flowers, attracts the tiny bird, constantly in search of nectar. We do occasionally catch it perching on a branch, as in this painting of an adult male identified by his ruby red gorget.

Our cards are printed on 100% recycled paper.

Size: 6 3/8"x 4 1/4"
Price: $15.00 CDN for a set of eight cards with envelopes
or $2.00 CDN individually.



The Crocker Hill Store, Steven Smith Designs, 45 King St. St. Andrews N.B Canada E5B 1X6
Tel: (506) 529-4303 | Toll Free: 1-888-255-4251| Email: crohill@nbnet.nb.ca

Shop Online
Bird Prints
Tote Bags
T-Shirts
Note Cards
Gift Certificates
Ordering Info
About Us
Your Hosts
Our Location
What's New
Our Garden
Media Attention
Contact Us