Northern Cardinal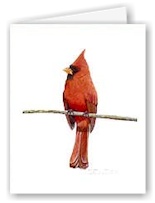 Northern Cardinal Note Cards
In winter we can hear the distinctive 'chip' call of Red, our Northern Cardinal just before dawn. He would already be dining on sunflower and safflower seeds at his favourite feeding area beneath one of our cedar trees. What a pleasure to watch this brilliant red bird drift across the gardens from the cedar to the lilac and then to one of the granite benches where we often leave seeds. On many spring mornings, we wake to the Northern Cardinal's melodious whistle-like song.

Our cards are printed on 100% recycled paper.

Size: 6 3/8"x 4 1/4"
Price: $15.00 CDN for a set of eight cards with envelopes
or $2.00 CDN individually.




The Crocker Hill Store, Steven Smith Designs, 45 King St. St. Andrews N.B Canada E5B 1X6
Tel: (506) 529-4303 | Toll Free: 1-888-255-4251| Email: crohill@nbnet.nb.ca

Shop Online
Bird Prints
Tote Bags
T-Shirts
Note Cards
Gift Certificates
Ordering Info
About Us
Your Hosts
Our Location
What's New
Our Garden
Media Attention
Contact Us