Blue Jay Cyanocitta cristata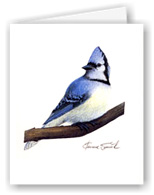 Blue Jay Cyanocitta cristata Note Cards
The pale blue crested bird screams his name, "Jay! Jay!" as if to announce his place at the black granite feeding station. His distinctive black collar and necklace appears to stretch as he fills up his crop with one last sunflower seed before he flies off to his cache. At other times, he can float quietly into the garden where we will find him perched in the lilac.

Our cards are printed on 100% recycled paper.

Size: 6 3/8"x 4 1/4"
Price: $15.00 CDN for a set of eight cards with envelopes
or $2.00 CDN individually.




The Crocker Hill Store, Steven Smith Designs, 45 King St. St. Andrews N.B Canada E5B 1X6
Tel: (506) 529-4303 | Toll Free: 1-888-255-4251| Email: crohill@nbnet.nb.ca

Shop Online
Bird Prints
Tote Bags
T-Shirts
Note Cards
Gift Certificates
Ordering Info
About Us
Your Hosts
Our Location
What's New
Our Garden
Media Attention
Contact Us