Black-capped Chickadee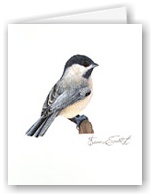 Black-capped Chickadee Note Cards
The official bird of New Brunswick is a loyal year round resident of Crocker Hill. We never tire of its "chick a dee-dee-dee" song 365 days a year. When we hear the male Ôs "fee-bee" we know spring is not far away. Our faithful friends never refuse Gail's tasty offering of raw peanuts as they feed from her outstretched hand.

Our cards are printed on 100% recycled paper.

Size: 6 3/8"x 4 1/4"
Price: $15.00 CDN for a set of eight cards with envelopes
or $2.00 CDN individually.




The Crocker Hill Store, Steven Smith Designs, 45 King St. St. Andrews N.B Canada E5B 1X6
Tel: (506) 529-4303 | Toll Free: 1-888-255-4251| Email: crohill@nbnet.nb.ca

Shop Online
Bird Prints
Tote Bags
T-Shirts
Note Cards
Gift Certificates
Ordering Info
About Us
Your Hosts
Our Location
What's New
Our Garden
Media Attention
Contact Us